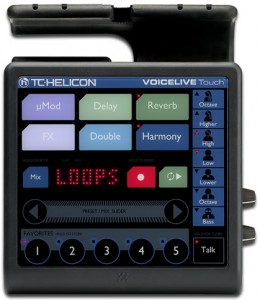 Hey guys, Ken Tamplin here.
I enjoyed the opportunity to review a product I think is really cool.
It's the new TC-Helicon VoiceLive Touch.
To be quite honest I was skeptical.
Why?
I feel that devices that promote "the easy road to great singing" hurt singers from developing the real art of HOW TO SING.
What I've learned is that the VoiceLive Touch is not about that at all! In fact it can advance your singing skills and performance and help you take command of your own sound and give you more control, power and versatility than you ever thought possible.
Let me explain…
As I auditioned the VoiceLive Touch I realized it was like having 4 background singers tracking your every move perfectly! (no kidding). I can't tell you all the times I wish I was Donald Trump telling my band members that didn't get it right: "YOU'RE FIRED!"
But I couldn't. I was held hostage to whether they rose to learning their parts.
And, a killer feature is that you have total command of changing your programs right at your fingertips. Built into the MP-75 Modern Performance Microphone, you can change programs with one easy push of a button. (You can also do this with a foot switch if you prefer) Very cool!
I have spent a lifetime giving SINGING LESSONS to band members. I expected them to be able to rise to sing the harmonies of songs we were performing and man did that take forever or what? And not only that, I was always subject to someone's pissy attitude or someone not taking the time to learn their parts…and the list goes on.
---
---
Guys come on. Think about this:
The guitarist is spending his life, trying to find "his sound" with different guitars, amps and so on.
So is the bass player, drummer and keyboardists too!
Isn't it time you were in control of YOUR SOUND? (instead of some sound man?)
Remember. You are the CENTERPIECE and main focus of the band!!!!
SO TAKE CONTROL OF IT!
So, whether you're in a group, a worship leader, a solo artist or whatever, the VoiceLive Touch will rock your voice!!!
TAKE CONTROL OF YOUR SOUND!!!
Check out all the great stuff from TC-Helicon!