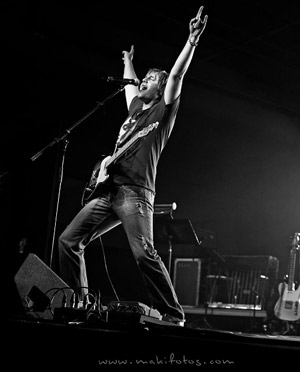 If you are active in our KTVA Forum then I'm sure you have met our amazing moderators, people who go above and beyond to help you with your KTVA singing lessons and who can actually sing themselves.  One of those moderators is Scott Patrick, lead singer of the Canadian band WYATT.
WYATT has just released a fantastic new single and video, 'Jesse James' and we want you to be in on it.
Scott came to KTVA over a year ago and since then, as he puts it; "I have been singing for 20 years and have learned more in the last ONE year than in the previous 19 years combined!"
Whereas before he came to KTVA his range was up to a D4, he can now comfortably hit a B5 and beyond – he discovered that he didn't need to settle with what he had.
Scott Patrick is a professional singer who knows the importance of really keeping your voice in shape through continued training and exercise, "The moment you relax and don't take it seriously is when it kicks your butt."
Scott's warmup routine on show days consists of an hour or so in the afternoon, warming up to the Volume 2 exercises, and then a short warmup before showtime. "One of the main things I have noticed is that because of KTVA, if I have to sing three sets in a night, my last song of the last set is at least as strong as the first song of the first set.  I can now sing for hours on end without any strain or fatigue."
WYATT are now poised for the release of a new album and more touring – MAKE SURE to catch these guys Live and if you are a KTVA vocalist in the forum, drop in and say hi to Scott.
Here is 'Jesse James' by WYATT – turn it up!
WYATT – 'Jesse James' on iTunes – Amazon MP3 – WYATT on Facebook