I personally worked with Gene back in 1992 where we formed a band with
a long time guitarist friend named Scott Van Zen.
The band was called Mystery Train.
Gene and I wrote several songs for KISS at that time so it was fun to
see 3 of those songs end up on "The Vault" as songs #3, #4, and #5 on
disc #1 of a 10 CD set.
Some fun facts for you about Gene:
When Gene Simmons stepped up to the Rock and Roll Hall of Fame podium
during KISS's induction ceremony in 2014, the only person who was
confident they'd be in that position when they started forty years ago
was Simmons.
His confidence is legendary, even in the ultra-confident world of
1970s arena rock. Not only have he and Paul Stanley kept the band
alive through disputes with fellow originals Ace Frehley and Peter
Criss, the makeup-free era of the 1980s, and countless farewell tours,
the bassist has been the face of the KISS merchandise empire,
promoting everything from branded bobbleheads to caskets.
Of course, Simmons has had a life beyond spitting blood in platform
boots. He's had an acting career (remember the movie 'Runaway'?) and
starred with wife Shannon Tweed and their children on an A&E Network
reality series, 'Gene Simmons: Family Jewels,' for seven seasons.

Gene Simmons name isn't really Gene Simmons.
Gene was born in Israel as Chaim Witz.
Chaim was born in Haifa in 1949; his mother was a Hungarian
concentration camp survivor. The two of them moved to Queens when
Chaim was eight and a half, where he changed his name to Eugene Klein
(reflecting his mother's maiden name) and learned English via comic
books and TV.
Gene also owns a football team.
Well, he's one of the owners, along with Stanley, of an Arena League
team called, appropriately enough, the LA KISS. The players are clad
in fire-adorned jerseys and the cheerleaders parade around in leather
bikinis. As you'd expect, Simmons parlayed the arrangement into a new
reality series, AMC's '4th and Loud.'
Despite the hard-living lifestyle that a 1970s arena act always
projected – it was a lifestyle that contributed to Frehly and Criss's
dismissal from the band – Simmons has never drank or done drugs. He
told CNN he made that choice to honor his mother and her survival
story. "Our entire family was killed off in the gas chambers of Nazi
Germany," he said. "There is nothing that I would do ever to break my
mother's heart."
Simmons has been recognized for his efforts to give back through
various charitable endeavors. In 2013, for instance, he won the MEND
Humanitarian award, for his support of Mending Kids International,
which provides surgical care to children in developing countries. "I
don't have the right NOT to give back and neither do you. Some mother
somewhere is crying her heart out because her child can't have what we
have in this country and we can change that," he said during his
speech.
This Kiss legend actually taught 6th grade at PS 75 in Spanish Harlem.
Gene Simmons claims to have slept with well over 4,600 women. Two of
the special ladies in his life have been Diana Ross and Cher. At one
time he even lived with Cher.
Early on Gene strongly considered becoming a Rabbi! (no kidding)
Gene has his own publishing company called Simmons Publishing, which
publishes books and magazines.
Gene got a trade mark copyright on the $ sign from the game Monopoly
and make them pay a royalty every time they use it. (he copy-wrote it
right our from under them).
Leela from Futurama sang on Gene's 1978 solo album!
Actress Katey Sagal – best known as Gemma from Sons Of Anarchy, Peg
Bundy from sitcom Married… With Children and the voice of Leela in
Futurama – was an aspiring singer and waitress when Kiss walked into
her restaurant in the mid-70s. "Gene thought I was kinda cute, so we
ended up kinda going out," she recalls. Katey's own band, The Group
With No Name, were signed to Casablanca Records in 1976 after Gene
pulled some strings. The Group… didn't last long, but Katey went on to
sing back-up for Bob Dylan, Bette Midler and Molly Hatchet before
finding fame on TV.
Kiss went into partnership with Hello Kitty!
Although fiercely protective of the Kiss brand, in 2012 the band have
embarked on a line of co-branded merchandising with fictional Japanese
pussycat Hello Kitty. There are t-shirts, mugs, vinyl figures and
badges depicting the cute white cartoon moggy in Kiss make-up, but the
highlight of the range is surely the toilet paper… as tested by Mike
Tyson at the product launch in Las Vegas.
Kiss turned down The Beatles!
Or rather, they rejected the chance to appear as the Future Villain
Band in the preposterous 1978 Beatles musical Sergeant Pepper's Lonely
Hearts Club Band, because they were worried about how playing the bad
guys might affect their image. The role was eventually accepted by
Aerosmith, who were too stoned to care.
Eddie Van Halen wanted to replace Space Ace!
In 1977, a year before the Van Halen debut, Gene invited Eddie and
Alex Van Halen to accompany him on demo material for Love Gun. On the
album, Gene got Ace to play the Christine Sixteen solo note-for-note
how Eddie had jammed it. When Ace left the band in 1982, Eddie – by
then a superstar in his own right – announced to Gene that he was sick
of Van Halen's new direction and Dave Lee Roth's ego and he wanted to
join Kiss. Gene talked him out of it, insisting Eddie "cast too much
of a shadow to be the guitar player in Kiss".
There are now Kiss urns! (caskets)
The Kiss Kasket was just the start. As part of the deal they signed
with memorials firm Eternal Image, a range of Kiss cremation urns are
now on the market. The first design depicts the band leaping out of
flames, but if you want a more subtle Kiss urn, three further designs
are promised. The deal also included the production of Kiss bronze
memorials, Kiss prayer cards, Kiss registry books, Kiss memorial
candles and Kiss cremation urns for pets.
They've been on Scooby Doo!
In the 2002 Halloween episode of What's New Scooby Doo?, Shaggy and
Scooby are excited to hear that Kiss are going to be playing a show in
town. However, the concert is disrupted by the ghost of Hank Banning
(or is it?) and some robot scarecrows. When the faux-spectral mayhem
kicks off while the band are rocking through Shout It Out Loud, Gene
asks Paul what they should do next. "What we always do," shrieks the
Starchild. "Keep playing till the cops come!" In 2015, they teamed up
again for the straight-to-DVD movie Scooby-Doo! and Kiss: Rock and
Roll Mystery.
The Kiss Monster Book is three-feet tall and will cost you $4,250!
"A must-have for all Kiss fans," Tommy Thayer has the audacity to say
in the advert for the appropriately titled Monster Book, which is an
impractically enormous compendium of live snaps of the band that's
limited to only 1,000 copies. This is a ridiculously huge tome that
opens up to a width of five feet. "You can get a couple of them and
build a house," reckons Paul, and let's face it, you'll probably need
somewhere new to live after you've shelled out a few grand for a book.
Gene Simmons can shoot fire out of his mouth 15 feet high. The world
record is 20 feet, which makes him one of the top five people who can
breathe fire in the world. (Gene accidentally caught his hair on fire
on December 31, 1973 in New York.)
His tongue measures over 7 inches long!
Gene Simmons is a former member of the Mickey Mouse Club.
Gene has the same birthday as Rob Halford, the vocalist for Judas Priest .
Gene speaks five languages. English, German, Hungarian, Japanese and Hebrew.
There is obviously much more I can say about Gene, but as you can see,
Gene has lived a pretty colorful life.
So I thought you guys would like to peer into his latest memorabilia
marketing magnificence called "The Vault!"
---
Watch this 30 second before and after video of a student who took the course for only one year:
Want To Learn to Sing Better?
Well, you CAN! Get started today with our 'world famous for good reasons' How To Sing Better Than Anyone Else PRO BUNDLE vocal course and you will be well on your way to singing better than you ever thought possible!
---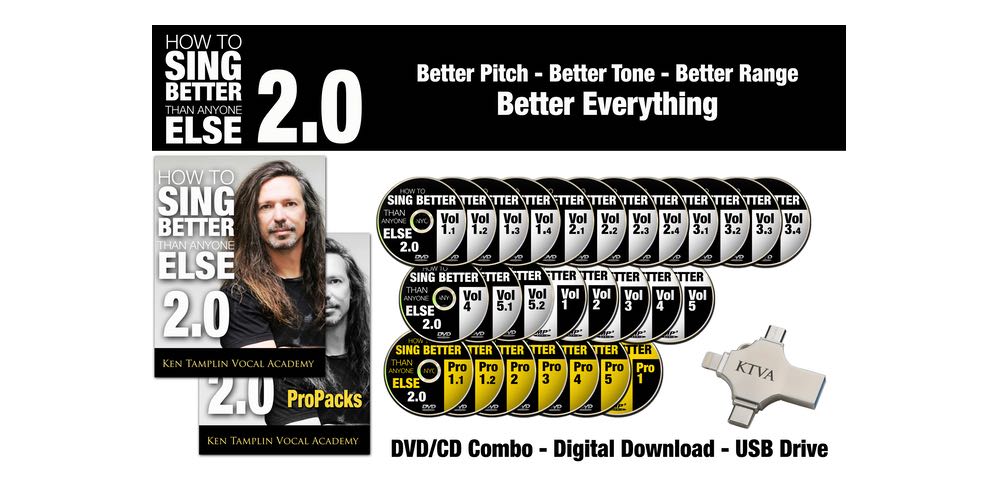 "FINALLY….! Finally someone explains the mechanics of singing in a productive way (rocket ship pillars etc.). I'm improving by lightyears compared to what my singing was before. You get this a lot (as you should) but the course you've put together…MIND-BLOWING! Purchasing Kens material was a turning point in my life and the best thing that i have ever spent my $$$ on." John Ash
---
Active KTVA Students in The KTVA Singers Forum:
---
""It's awesome.

The private sections of the forum are worth the price of admission alone.

I struggled with 2 different tertiary (university Level) level teachers (6 months each about 8 years ago) telling me my voice just wouldn't be able to do what i wanted to be able to do and even if it could, the material i wanted to be able to sing would be too 'Dangerous.' Absolute rubbish. If you do the work thats laid out in this course, you are golden, I started in March Last year struggling to hit the E4 note in 'Under the Bridge' chorus now I can sing this stuff:
Honestly man, you are not going to find a bad review here. The course and this forum completely demystifies every single aspect of great singing. Just be prepared to do the work."
Streeter – KTVA Singers Forum
---
Gary Schutt
Anthony Vincent
Tori Matthieu
Sara Loera
Gabriela Gunčíková
Xiomara Crystal
---