How To Sing Better Than Anyone Else – Mini
> Information
–>–>

> Reviews
–>–>

> Watch Videos
–>–>


"Can I Really Learn How To Sing From A DVD Course?"
YES! You will learn from Master Vocal Coach, Ken Tamplin directly – and you will be able to learn at your own pace!!!
---
Can Anyone Learn To Sing…?
Great Singing Starts Here!
Ken Tamplin Vocal Academy has taught many thousands of vocalists all over the world how to sing better than they ever thought possible, and in doing so we discovered that not everyone wants to dive straight into the deep end and become a professional singer!
So, we listened to YOU and created a killer vocal course for people who "just want to learn how to sing" but INSIST on learning from the best Master Vocal Coach Ken Tamplin.
"How To Sing Better Than Anyone Else – Mini" is the Jr. version of our full blown "How To Sing Better Than Anyone Else – Full Course" which is the industry standard vocal course for serious vocalists.
We couldn't sacrifice quality of course, so we took our time and made sure you get the true KTVA experience, which means: KILLER RESULTS!
How It Works:
1) Watch Ken Demonstrate Each Video Step By Step And Follow His Instructions.
2) Practice The Corresponding Audio Workouts To Grow Your Voice Like Mad.
3) Follow Ken As He Shows You How To Apply What You Are Learning To Actual Songs And Amazing Singing.
It's that easy!
Sing The Songs YOU'VE Always Wanted To Sing.
Everyone knows you can sing great in the shower and you're doing pretty good at Karaoke, but now it's time to take it to the next level!
It's Time To Rock Your Voice!
---
Singing Demonstrations
Rock Singing – Chris Cornell
Epic Singing – Freddy Mercury
---
Just in case you're feeling brave…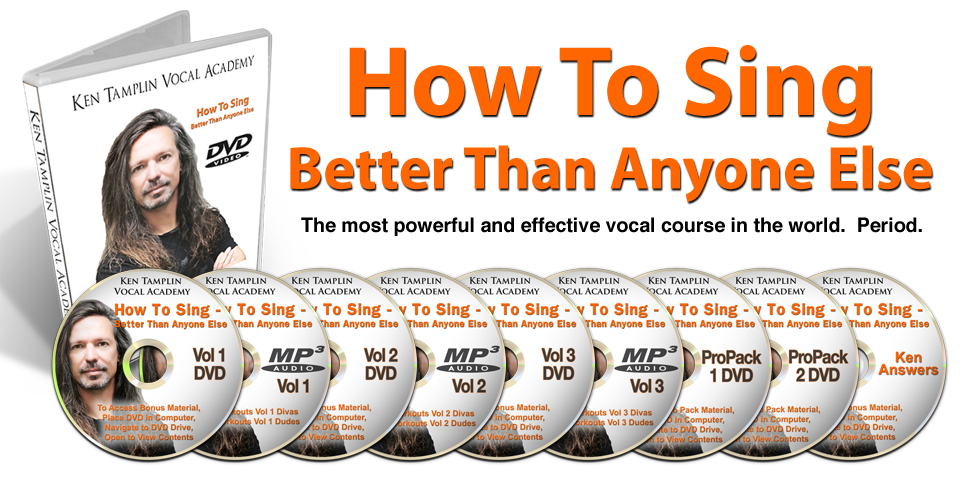 ---
FAQ
Ken Tamplin Vocal Academy has taught thousands of people all over the world how to sing better than they ever thought possible, and many of those people had the same questions you have now.
So, we compiled some of the more frequently asked questions and answers for you.
[spoiler title="How do I start your singing course? I'm kind of afraid to sing." open="0″ style="2″]
So, are you ready to start singing better than you ever thought you could? This is how your fantastic singing journey will start…
1) Purchase The Course
2) Watch The Volume 1 Movie Through Once
3) Read The "How To Do This Volume" PDF File
4) Start Practicing – Section By Section – What You Learn In The DVD To The "Audio Workouts"
5) Take Your Time To Make Sure You Understand & Are Doing The Segments Correctly
6) Move on to Volume 2 and repeat steps 2 though 5
7) Move on to Volume 3 and repeat steps 2 through 5
Do not give yourself a time limit – just work the lessons and let it all sink in at your own pace. Yes, you WILL experience great results as soon as you start, but even then, make sure to take the time for yourself to understand WHY and HOW you are having these results, so you can tap into your new techniques at any time.
You will have continued support as soon as you start, you will be registered in the KTVA Forum (if you haven't already) and you can jump in and make your presence known. You will have access to ongoing LIVE training webinars, vocal evaluations, demo uploads, tons of posts and conversations, and… access to Ken Tamplin of course, both in the forum, via email, via webcam, and in the webinars.
Trust me – you are NEVER alone!
[/spoiler] [spoiler title="Is this course only for professional singers?" open="0″ style="2″]Our 'How To Sing – Better Than Anyone Else' singing course is perfect for the multi platinum singing star as well as the daily shower screamer.
Our professional vocalists use parts of the course for their daily exercises and compliment that with regular web-cam singing lessons when they are on tour.[/spoiler] [spoiler title="How long does it take to complete the course?" open="0″ style="2″]Every person is different and so it really depends on you.
However, the great thing about THIS particular course is that you will be using it for as long as you are singing. Many of our professional vocalists who sing often, either on tour or in the recording studio, use Volume 3 of "How To Sing – Better Than Anyone Else" for their daily training. It is a never ending resource.
Your singing voice REQUIRES a regular workout – this course will give you that forever.
If you enter KTVA with this mindset, your course will never end and you will not be rushing to complete it. You will continually reap the benefits.
[/spoiler] [spoiler title="How do I really know this course is better than all the others?" open="0″ style="2″]Just ask around in the forum, you will meet vocalists who have tried many of the other "shiny" singing courses but end up right here because of the results.
Check out some of these testimonials:
Great singing is a true experience and your vocal coach HAS TO be able to sing well themselves, otherwise they can't relate to what it is you are experiencing.
The proof is in the singing. Ken Tamplin can sing his butt off and he will show you how to do it, too.[/spoiler] [spoiler title="How do I know when it's time to move on from Volume 1 to Volume 2?" open="0″ style="2″] When:
You have good posture
You understand and are using correct support
Your tongue is dropped to the base of your jaw
You keep you jaw wide open
You are consistently monitoring stress away from the chest neck and throat
You have a strong understanding of the Ah vowel
You are keeping the ah vowel nice and bright at all times
You are starting to understand vowel modifications
You would then apply the video content to the audio workout (ideally) 5-6 days per week.
After about 2-3 weeks of this kind of training (some people take longer and that's ok), it would be time to move on to Volume 2.[/spoiler] [spoiler title="How do I know when it's time to move on from Volume 2 to Volume 3?" open="0″ style="2″] When:
Your diaphragmatic support is working well and you use it every time you start a scale and relaxing it between phrases maximizing diaphragmatic strength with release.
You are monitoring your tension in the chest neck and throat and You are shaking off any and all tension when ascending and descending a scale
Your tongue is dropped to the base of the jaw. (use a mirror to monitor this)
Your jaw/mouth is open as wide as you can make it and your jaw doesn't move (shift) during an exercise. (use a mirror to monitor this)
You are singing your Ah, Oh and EE Vowels nice and bright not "covering" the sound
You are using your vowel modifications in all of your exercises on your audio workout AND you make sure that the modifications are the same going up as they are coming down (they will happen in the same place on the scale going up as coming down. Also remember to "re-open" the vowel on the way down. This is a common mistake to forget and "hang on" to the vowel modification and "drag" it on the way back down)
You are now connecting your chest register with your head voice without hearing the register break (the yodel or as I refer to…the "Speed Bump"). You are slowly starting to "lean" into this "passagio" or "break" area without hearing the Speed Bump adding only as much "weight" into the sound before hearing the break.
You are slowly and lightly "stretching" your chest register waiting as long as possible before "handing it off" into your head register AND you are re-connecting back into your chest register as soon as possible from the head voice not "dragging" the head voice down into the chest register.
You are not "favoring" the break area but are consistent with the volume (loudness) of your voice only singing as "loud" as you can connect.
Most people move on to Volume 3 on about 3-4 weeks of working this course, though again everyone's voice is different and so times will vary.[/spoiler] [spoiler title="How quickly will I get results?" open="0″ style="2″]Right away! If you have some singing experience but have never taken the KTVA method, you will be correcting bad habits right out of the gate and you WILL notice a difference.
If you have no singing experience, you will have breakthroughs as soon as you start doing the first part of the course.[/spoiler] [spoiler title="I'm older, can I still learn how to sing well?" open="0″ style="2″]I get this question all the time. I've lost my Mo Jo and much of my range because I'm now ….years old.
Remember, your voice is a muscle. And like any muscle in your body, if trained properly, can be built back up. Obviously not as quick and robust as in your 20's, but very doable just the same.
It will require a bit more dedication and a little more patience. If you are consistent with it, you will see substantial gains and ultimately find yourself very close to where you were if you are willing to put in the time and energy.
Guys, you will get out of this what you put into it. It's just that simple!
Watch this video, "Can Anyone Sing?":
[/spoiler] [spoiler title="How do I improve my vibrato?" open="0″ style="2″]Though many think that vibrato is something you are born with, this is not true. Vibrato is learned. I had to learn it, and you can too.
Start by singing a note and holding it. Let's say the note you are singing is an "E", slowly toggle between the E you are holding and one half step down (Eb).
Then as you feel more comfortable, try to pick up the speed of this toggling between E and Eb.
Try not to get discouraged. It will seem awkward at first but as you develop this, it will become easier and easier until you will land that vibrato that works best for your voice.
Ultimately, this will be the last "release valve" and "reasonance" builder I cover in my Volumes.[/spoiler] [spoiler title="Can you teach me how to sing really high notes?" open="0″ style="2″]Yes I can.
The first and most important thing is to sing correctly. Then it is extremely important to build the mid voice first BEFORE worrying so much about high notes.
Why?
Because if you don't build the mid voice first and make it strong, over time, only singing high notes will break down you mid voice and you WILL lose your vocal range. Then the next thing to go will be those high notes you were so worried about. However, if you build the mid voice as I lay out in my Volumes, not only will the high notes come along for the ride, but your voice will last a lifetime.[/spoiler] [spoiler title="Can you teach me how sing like Axel Rose?" open="0″ style="2″]Axel uses a technique called "Mask."
It is the idea of "smiling" into your phrases while singing. This provides a very "bright timbre" in the voice. I teach this in my How To Sing DVDs. I also add several important elements that go far beyond only using this technique.[/spoiler] [spoiler title="I really want to buy the whole course, is it really worth it?" open="0″ style="2″]The bundle is an insane value.
The regular bundle (The whole "How To Sing – Better Than Anyone Else" course) not only gives you all 3 Volumes, but also includes the original stages AND a TON of killer bonus material like:
The Secret To Live Singing
Licks & Trick DVD
How To Write A Song
Guitar Chords
a complete guide to singing for a living
a list of band manages and a ton more!
The Gold Bundle includes all of this PLUS a killer price break for 3 online and (or) in studio lessons.[/spoiler] [spoiler title="Will this course prepare me for a career in singing?" open="0″ style="2″]Absolutely! If you want to be a professional singer and you dedicate the right amount of time and energy into it, Ken Tamplin Vocal Academy will absolutely turn you into a monster vocalist!
Many of our vocalists discover their own true voice for the first time once they dig into our course, and it is such a powerful awakening that it empowers them to become professional singers.
You will also be able to nail auditions for singing competitions.[/spoiler] [spoiler title="Can I see your CRAZY YouTube video again?" open="0″ style="2″]Absolutely!
[/spoiler]
If you still have questions before you start your How To Sing – Better Than Anyone Else singing course, check out the KTVA forum and ask around.
OR… click this button to send us your questions directly:

[contact-form] [contact-field label="Name" type="name" required="true" /] [contact-field label="Email" type="email" required="true" /] [contact-field label="Your Question" type="textarea" required="true" /] [/contact-form]
OR… just send us an email: ktvainfo@gmail.com
OR… just call customer service: (949) 650-6229
–>–>

"Hi All ,
First of all i just wanna thank Ken Tamplin Vocal Academy for giving me my confidence back and putting me back on track , i couldn't believe how far i've gotten since i started the program. i tried so many methods before and none of those worked at all , just fake promises. All i got to say it that this is the ONLY METHOD thats gonna make you sing like a real Pro and its gonna help you achieve what you want as a singer in any level. Thank you Ken , you're the man Bro."Diego- London-UK
---
More Ken Tamplin Vocal Academy reviews here
–>–>

Video Demonstrations
Scott Patrick – KTVA

Sara Loera – KTVA

–>–>