Voice Warm Up Exercises
Many have asked me for some solid daily vocal exercises.
It is important to remember that it's not just about "doing scales" that makes a great vocal workout.
It's about combining all the necessary elements to that workout that makes for a good vocal workout.
1) Correct Diaphragmatic support
2) Correct relaxation response
3) Correct vowel placements
4) Correct tongue placement
5) Bright ping / timbre in the voice
6) Correct air management
7) Building the Passaggio and using mix voice properly
8) Balance of volume throughout the workout
9) Correct stamina building
10) Application to actual singing
Doing this daily regimen will help point you in the right direction, but all of these elements must work in concert with each other to make for a great voice.
Ken Tamplin Vocal Academy – Where The PROOF Is In The Singing!
Want to learn to sing better?
Well, you CAN! (No really… you actually can) Our 'world famous for good reasons' vocal course—the How To Sing Better Than Anyone Else PRO BUNDLE—will help you to sing better than you ever thought possible!
Watch this 30 second before and after video of a student who took the course:
Watch Sara's 67 second video. "No other vocal method that can deliver all the things his program delivers, and as quickly"
---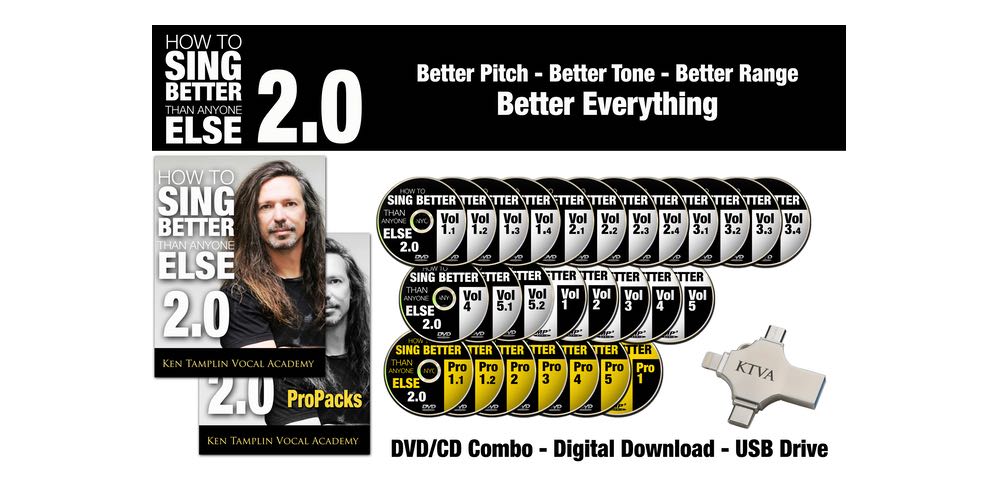 "FINALLY….! Finally someone explains the mechanics of singing in a productive way (rocket ship pillars etc.). I'm improving by lightyears compared to what my singing was before. You get this a lot (as you should) but the course you've put together…MIND-BLOWING! Purchasing Kens material was a turning point in my life and the best thing that i have ever spent my $$$ on." John Ash
---
Active KTVA Students in The KTVA Singers Forum:
---
""It's awesome.

The private sections of the forum are worth the price of admission alone.

I struggled with 2 different tertiary (university Level) level teachers (6 months each about 8 years ago) telling me my voice just wouldn't be able to do what i wanted to be able to do and even if it could, the material i wanted to be able to sing would be too 'Dangerous.' Absolute rubbish. If you do the work thats laid out in this course, you are golden, I started in March Last year struggling to hit the E4 note in 'Under the Bridge' chorus now I can sing this stuff:
Honestly man, you are not going to find a bad review here. The course and this forum completely demystifies every single aspect of great singing. Just be prepared to do the work."
Streeter – KTVA Singers Forum
---
Gary Schutt
Anthony Vincent
Tori Matthieu
Phil Maher
Gabriela Gunčíková
Xiomara Crystal
---