Licks & Tricks Revealed – Advanced Singing Course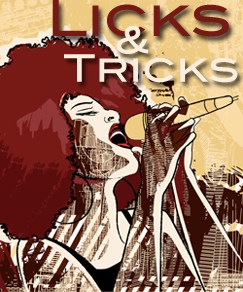 "Licks & Tricks Revealed" is the ULTIMATE collection of Singing Lessons for Soul, Blues, Rock, R & B, Pop, Jazz and Country.
Learn To Sing soul like Justin, Adele, Mariah and more… from Ken Tamplin's many years of collecting his favorite Soul, Blues, Rock and R&B Licks, spanning over 25 years of music.
Ken's Vocal Lessons systematically breaks down every lick step by step to show you how to become the best Soul, Blues, Rock, R&B singer you can be. There is NO DVD like this available ANYWHERE in the world.
Why? Because very few vocal training coaches know soul. They know voice pedagogy (instruction) and that's it (scales, and simple vocal exercises.).  Artists who may have "some" soul,  are not so willing to "give it up" because that's what keeps them mysterious and you coming back for more: Like Adele, Justin Bieber, Mariah Carey etc.
THIS DVD/CD  WILL WILL CHANGE THE WAY YOU SING FOREVER AND KEEP YOUR FANS COMING BACK FOR MORE!
---
Licks & Tricks Revealed: $199.95
22 Video Lessons – 60 Minutes
Not available for individual purchase.
Included FREE in complete Course Bundles.