Heart – Ann Wilson – Barracuda – cover – Sara Loera – Ken Tamplin Vocal Academy
Ann Wilson is arguably one of THE greatest female rock vocalists of all time.
Born in 1950, at age 67 Ann is still kicking major Arse.
Growing up as the daughter of a military major in the Marine Corps, a quote from her sister Nancy says: "On Sundays we'd have pancakes and opera. My dad would be conducting in the living room. We'd turn it way up and rock. There was everything from classical music to Ray Charles, Judy Garland, Peggy Lee, Bossa Nova, and early experimental electronic music." Her mother, Lou, was a concert pianist and choir singer, and her father John, was also a musician and singer who once led the U.S.
Marine Corps band in Panama and Taiwan where the family had lived at the time.
Ann, shy because of a stutter, turned to music. As a kid, Wilson was bullied for being overweight. She revealed that in the 1970s and into the early 1980s she would starve herself and use diet pills to stay thin. By the time Heart made a comeback in the mid-1980s, Wilson had gained a significant amount of weight. Fearing that Heart's lead singer's figure would compromise the band's image, record company executives and band members began pressuring her to lose weight. In music videos, camera angles and clothes were often used to minimize her size, and more focus was put on more slender guitarist Nancy. Ann stated she began suffering from stress-related panic attacks due to the negative publicity surrounding her weight. She underwent a weight-loss surgery called "adjustable gastric band" in January 2002 after what she calls "a lifelong battle" with her weight.
What I personally love and hate about this is this: Ann overcame. She overcame a significant speech impediment. Worked through weight issues the world is intolerant of. Had Mono at an early age that set her back for years. Moved around as a military kid with basically no friends to turn to.
Unfortunately and fortunately, sometimes it takes these kinds of challenges to overcome and strive for excellence. So Ann pulled herself up by her own bootstraps and we are blessed to this day with her amazing gifts of singing and music as a result.
As we all know, Heart's classics are "Barracuda," "Magic Man," "Crazy on You," "Straight On," "Dog & Butterfly," "What About Love," "All I Wanna Do Is Make Love to You" and many other timeless classics.
So I guess that begs the question.
What the heck is stopping you?
I'm not talking just about singing.
I am talking about life!
What is stopping you?
The only one stopping you… is you!
Thanks Ann, I hope Sara Loera made you proud this day!
Ken Tamplin Vocal Academy – Where The PROOF Is In The Singing!
---
Watch this 30 second before and after video of a student who took the course for only one year:
Want To Learn to Sing Better?
Well, you CAN! Get started today with our 'world famous for good reasons' How To Sing Better Than Anyone Else PRO BUNDLE vocal course and you will be well on your way to singing better than you ever thought possible!
---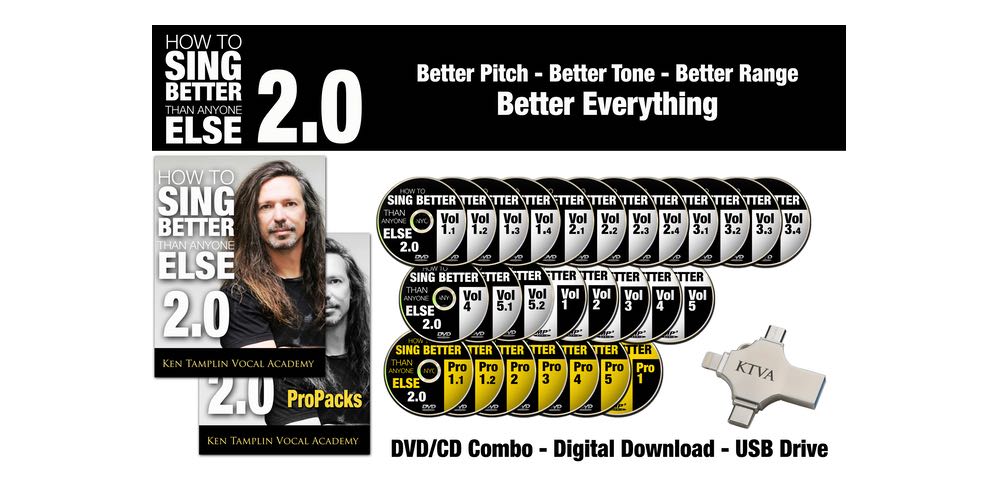 "FINALLY….! Finally someone explains the mechanics of singing in a productive way (rocket ship pillars etc.). I'm improving by lightyears compared to what my singing was before. You get this a lot (as you should) but the course you've put together…MIND-BLOWING! Purchasing Kens material was a turning point in my life and the best thing that i have ever spent my $$$ on." John Ash
---
Active KTVA Students in The KTVA Singers Forum:
---
""It's awesome.

The private sections of the forum are worth the price of admission alone.

I struggled with 2 different tertiary (university Level) level teachers (6 months each about 8 years ago) telling me my voice just wouldn't be able to do what i wanted to be able to do and even if it could, the material i wanted to be able to sing would be too 'Dangerous.' Absolute rubbish. If you do the work thats laid out in this course, you are golden, I started in March Last year struggling to hit the E4 note in 'Under the Bridge' chorus now I can sing this stuff:
Honestly man, you are not going to find a bad review here. The course and this forum completely demystifies every single aspect of great singing. Just be prepared to do the work."
Streeter – KTVA Singers Forum
---
Gary Schutt
Anthony Vincent
Tori Matthieu
Sara Loera
Gabriela Gunčíková
Xiomara Crystal
---