U2 – Mysterious Ways – Bono – cover – Ken Tamplin Vocal Academy
Everyone's gotta love Bono!
Bono got his nickname from a hearing-aid store.
As a young teen in Dublin, Bono (real name Paul Hewson, wife named
Aly) was a member of the street gang called 'Lypton Village.' His buddies started calling him Bono Vox after the neighborhood hearing-aid store Bonavox (latin for 'good voice'). He's been known as Bono ever since.
High School Friends: You know how high school usually means some of the most awkward, worst years of our lives and many of us felt like they didn't get along with most people? Well, this wasn't the case for Bono. At Mount Temple Comprehensive School, Bono would go on to meet his future wife and all of the members for U2. Seems like it was a great fit for him. Unlike many frontmen, though, Bono didn't actually create the band. U2 formed in 1976, when drummer Larry Mullen Jr. posted an ad on a bulletin board in their secondary school for people who wanted to be in a rock band.
Bono's life became traumatic after his mother passed away. He was never close to his father and claimed that his father never encouraged him to have big goals in life. In many of his interviews, Bono has said that this attitude of his father was the reason that he had great ambitions and was determined to make his dreams come to reality.
The famous Bono Glasses: Bono has a very definitive look, which he has become known for over the past several decades. I'm talking, of course, about those see-through glasses he always wears, even if he's inside. However, he doesn't wear glasses inside for the same reasons all the other rich celebrities do. Bono has an illness known as glaucoma, meaning his eyes are overly sensitive to light.
"Sir" Bono: In 2007, Bono was knighted by Queen Elizabeth II for his success in the music industry, his philanthropic and charitable contributions. However, since Ireland isn't part of the UK, Bono isn't a British citizen and doesn't get to go by Sir Bono. Or Sir Paul Hewson. ("Sir" Dr. Bono: Bono was additionally given an honorary doctorate by the University of Pennsylvania for his charitable
efforts.)
Speaking of charitable efforts: (this is a very short list…) Bono is also an activist and in the year 2006, he collaborated with another band by the name of Green Day who is a punk band. They jointly recorded a track called "The Saints Are Coming"; this track was made to address the consequences of Hurricane Katrina and the reconstruction of New Orleans.
In the year 2007, Bono along with his band U2 sang the title song for Instant Karma, which is a campaign launched by Amnesty International to save and protect the impoverished region of Western Sudan.
Bono has successfully used his stardom to create awareness around the globe about many social issues. He has met with many United States politicians and other prominent leaders from around the world and discussed with them issues like debt alleviation for the third world countries, AIDS awareness and prevention in Africa and increasing world poverty.
Bono is among those celebrities who have invested their time and strength in many causes, he also created a non-profit organization DATA (Debt AIDS Trade Africa) in the year 2004. This organization aims at eliminating poverty and fighting AIDS in Africa.
In 2009, U2 embarked on their massive, arena-only international tour for their album No Line on the Horizon. This tour, called The 360 Tour, became the highest-grossing tour of all time, generating over $736 million over 110 performance dates. That's a hefty $6.7 million per concert. Their tour before, The Vertigo Tour, is the 6th highest grossing tour of all time.
1.5% of Facebook: Facebook, founded in 2004, has become one of the biggest, most profitable companies in the world during its 10-year life. In 2010, Bono saw the potential of Facebook and purchased stock to own 1.5% of the company. While that doesn't seem like a large amount, that 1.5% ownership of the company is worth almost $1 billion.
All of the Awards: We all know Bono has been nominated for a Grammy (over 45 nominations). However, he has received nominations for several other awards. He is the only person to have been nominated for a Grammy, an Academy Award, an Emmy, a Golden Globe, and a Nobel Peace Prize. In fact, he has been nominated for two Nobel Peace Prizes, one in 2003, and again in 2008 (which he won) for his philanthropic efforts. He is one of the few musicians who have successfully been able to combine VERY sensitive issues bringing solidarity of religion and politics.
AND: Believe it or not, after roughly 30 years of being in the band, Bono still isn't a fan of the name U2. Instead, he prefers one of the band's original names, The Feedback.
There isn't enough room to mention all of the great hit songs from Bono, but just to name a few: New Year's Day, With Or Without You, I Still Haven't Found What I'm Looking For, Beautiful Day, One, Vertigo, Sweetest Thing, Every Breaking Wave, Magnificent, Desire, and Elevation.
A funny side note: In a Time Magazine interview, the interviewer said " Bono this and Bono that, do you ever get tired of that?" His reply"
I'm sick about hearing about Bono. AND I AM BONO!" ha ha ha
For this reason I chose to take on one of my many fav U2 songs, "Mysterious Ways."
Just a fabulous songwriter, incredible intentional, passionate lyricist, singer, Christian, uniting politician, and world philanthropist.
SO; You Gotta Love Bono. And to be honest, I want to be Bono when I grow up!
Ken Tamplin Vocal Academy – Where The PROOF Is In The Singing!
---
Watch this 30 second before and after video of a student who took the course for only one year:
Want To Learn to Sing Better?
Well, you CAN! Get started today with our 'world famous for good reasons' How To Sing Better Than Anyone Else PRO BUNDLE vocal course and you will be well on your way to singing better than you ever thought possible!
---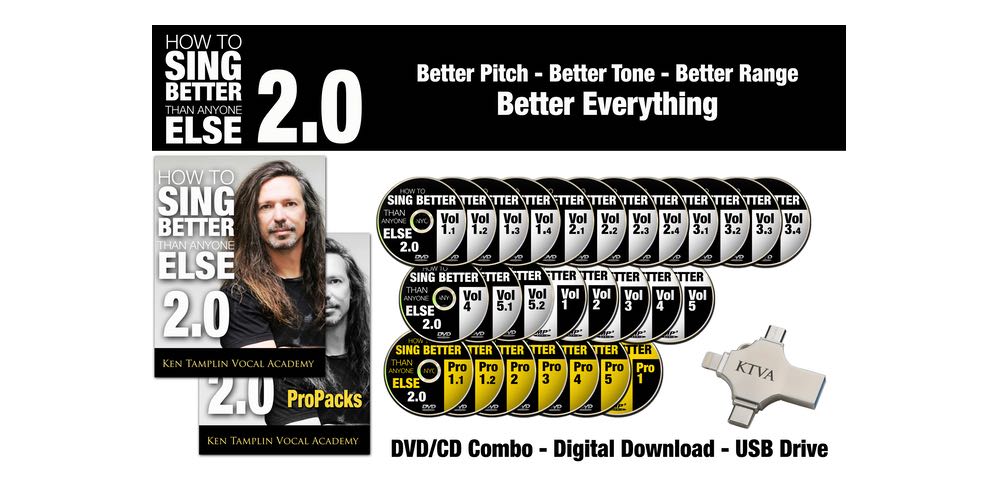 "FINALLY….! Finally someone explains the mechanics of singing in a productive way (rocket ship pillars etc.). I'm improving by lightyears compared to what my singing was before. You get this a lot (as you should) but the course you've put together…MIND-BLOWING! Purchasing Kens material was a turning point in my life and the best thing that i have ever spent my $$$ on." John Ash
---
Active KTVA Students in The KTVA Singers Forum:
---
""It's awesome.

The private sections of the forum are worth the price of admission alone.

I struggled with 2 different tertiary (university Level) level teachers (6 months each about 8 years ago) telling me my voice just wouldn't be able to do what i wanted to be able to do and even if it could, the material i wanted to be able to sing would be too 'Dangerous.' Absolute rubbish. If you do the work thats laid out in this course, you are golden, I started in March Last year struggling to hit the E4 note in 'Under the Bridge' chorus now I can sing this stuff:
Honestly man, you are not going to find a bad review here. The course and this forum completely demystifies every single aspect of great singing. Just be prepared to do the work."
Streeter – KTVA Singers Forum
---
Gary Schutt
Anthony Vincent
Tori Matthieu
Sara Loera
Gabriela Gunčíková
Xiomara Crystal
---