Hey guys,
Check out this version of "Never" by Heart.
Ann Dustin Wilson was born in San Diego, California. Her father was a major in the U.S. Marine Corps. Due to her father's military career, the Wilson family moved frequently. They lived near American military facilities in Panama and Taiwan before settling in Seattle, Washington, in the early 1960s. To maintain a sense of home no matter where in the world they were residing, the Wilsons turned to music.
"On Sunday we'd have pancakes and opera," her sister Nancy Wilson recalled. "My dad would be conducting in the living room. We'd turn it way up and rock. There was everything from classical music to Ray Charles, Judy Garland, Peggy Lee, bossa nova, and early experimental electronic music."
Wilson's family eventually settled in Bellevue, a suburb of Seattle, Washington. In 1968, she graduated from Sammamish High School. Shy because of a stutter, Wilson sought fulfillment in music. In the early 1970s she joined a local band, White Heart, which changed its name to Hocus Pocus, and then in 1974, to Heart.
During the 1970s, Wilson was in a relationship with Michael Fisher, the manager of Heart, while Nancy was involved with lead guitarist Roger Fisher, Michael's younger brother. Both couples controlled the band. In 1979, the relationships ended; Ann stated that Michael had fallen in love with another woman and they parted.
Wilson adopted her daughter Marie in 1991 and her son Dustin in 1998.
As a child, Wilson was bullied for being overweight. She revealed that in the 1970s and into the early 1980s she would starve herself and use diet pills to stay thin. By the time Heart made a comeback in the mid-1980s, Wilson had gained a significant amount of weight. Fearing that Heart's lead singer's figure would compromise the band's image, record company executives and band members began pressuring her to lose weight. In music videos, camera angles and clothes were often used to minimize her size, and more focus was put on more slender guitarist Nancy. Ann stated she began suffering from stress-related panic attacks due to the negative publicity surrounding her weight.
She underwent a weight-loss surgery called "adjustable gastric band"
in January 2002 after what she calls "a lifelong battle" with her weight.
One day in November 2009, Ann collapsed. Her sisters went with her to the doctor, where Ann got the news that she had liver problems resulting from drinking. While she had stopped using drugs at the birth of her daughter, she had increased her drinking; Nancy and other family members and crew had been concerned for some time. They planned to confront her about it, and had even built a break into the tour to allow for treatment. Ann ultimately got therapy on her own. In the band's 2012 autobiography, Wilson revealed her past struggles with cocaine and alcoholism. She stated she has been sober since 2009.
Wilson married Dean Wetter in April 2015. The pair dated briefly in the 1980s before rekindling their relationship years later.
We love Ann and thought that "Never" would be a fun song to cover..
Let us know how we did 🙂
Ken Tamplin Vocal Academy – Where The PROOF Is In The Singing!
---
Watch this 30 second before and after video of a student who took the course for only one year:
Want To Learn to Sing Better?
Well, you CAN! Get started today with our 'world famous for good reasons' How To Sing Better Than Anyone Else PRO BUNDLE vocal course and you will be well on your way to singing better than you ever thought possible!
---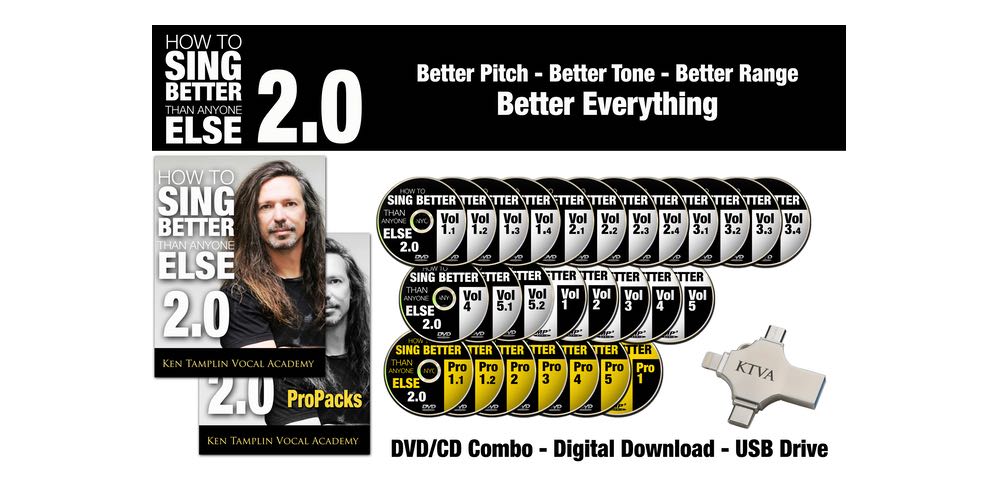 "FINALLY….! Finally someone explains the mechanics of singing in a productive way (rocket ship pillars etc.). I'm improving by lightyears compared to what my singing was before. You get this a lot (as you should) but the course you've put together…MIND-BLOWING! Purchasing Kens material was a turning point in my life and the best thing that i have ever spent my $$$ on." John Ash
---
Active KTVA Students in The KTVA Singers Forum:
---
""It's awesome.

The private sections of the forum are worth the price of admission alone.

I struggled with 2 different tertiary (university Level) level teachers (6 months each about 8 years ago) telling me my voice just wouldn't be able to do what i wanted to be able to do and even if it could, the material i wanted to be able to sing would be too 'Dangerous.' Absolute rubbish. If you do the work thats laid out in this course, you are golden, I started in March Last year struggling to hit the E4 note in 'Under the Bridge' chorus now I can sing this stuff:
Honestly man, you are not going to find a bad review here. The course and this forum completely demystifies every single aspect of great singing. Just be prepared to do the work."
Streeter – KTVA Singers Forum
---
Gary Schutt
Anthony Vincent
Tori Matthieu
Sara Loera
Gabriela Gunčíková
Xiomara Crystal
---