It's pretty interesting.
Aerosmith is one of the bands that were literally resurrected from the dead.
No kidding.
As many of you know, RUN DMC covered "Walk This Way" at a time when Aerosmith had basically died and were back to play VERY small, dingy clubs, and not even able to pack out a weekend for 200 seaters.
And as you all may know, there were HUUUUGE drug problems in the band.
But as fate would have it, the band cleaned up their act, stopped the drug and alcohol abuse, and marched on to legendary status.
But egos were still hot and heavy. In fact when Tyler got pissed off at Joe Perry and took the American Idol Judge gig, the band was actually auditioning singers to take Tyler's place! (that would have been pretty weird).
Some fun facts:
Early on:
Before using the name Aerosmith, the band wanted to name themselves Jack Daniels or Spike Jones.
The real name of Steven Tyler is Steven Tallarico. When he was in the band Chain Reaction, he became Steven Tally. Then he formed Aerosmith and wanted to change his name to Tyler Britt. But his manager convinced him to change it and become Steven Tyler.
Steven Tyler had first met Joe Perry over French Fries!
At a restaurant called Anchorage, Steven was having his meal. There he wanted to meet the chef to congratulate him as it was the best French fries he had ever eaten. Coincidentally, the chef turned out to be Perry who was not happy to meet him as Steven always made a mess of his meal which Joe had to clean later.
Steven's stolen bass
After being thrown out of High school, Steven Tyler stole the school band's bass and brags he still has the bass with him to this day! He had used that same bass at the end of the song "Livin' On the Edge" according to Rolling Stone Magazine.
Renaming the "Pump"
One of the most famous album of Aerosmith is "Pump". But the band members were not happy with this name at that time. They wanted to rename it as "Bobbing For Piranhas". (Thankfully, they didn't ha ha)
The song 'Sweet Emotion' is about Steve's emotions against Perry's ex wife. Each line of song "Sweet Emotion" actually represents the the deep anger at Joe's ex-wife Elyssa Jerret.
Why Perry quit the band?
Before their performance in Cleveland, guitarist Joe Perry's wife, Elyssa Jerret threw milk on bassist Tom Hamilton's wife, Terry Hamilton. This led to Joe Perry quitting the band in 1979.
When Jennifer Aniston said Tyler is hot!
When Jennifer Aniston was married to Brad Pitt, she once said that Tyler was the only guy for whom she would leave Brad Pitt.
Mysterious carrots?
In the year 1978, Aerosmith ordered a ton (2,000 lbs) of carrots and took it with them. The weird part is that no one (except the band
members) know why the band took a ton of carrots and for what they used them for?
Members of Aerosmith gave up drug in the 80s
In the 80s Joe Perry and Brad Whitford gave up drugs. So, when they recorded the album "Done with Mirrors" in 1985, they cleverly choose the title "Done with Mirrors" which contains double meaning. One meaning was how the album was recorded and the other meaning was that they have now abstained for the heavy use of cocaine.
When a fan threw cherry bomb!
In the year 1977 Aerosmith were touring for their album "Draw The Line". But while performing in Philadelphia a fan threw cherry bomb on the stage. Due to this both Perry and Tyler were injured.
When Steven Tyler blew off songwriting!
In the year 2009, Steven Tyler blew off one week of songwriting with Joe Perry. The reason was that he secretly flew off to England for an audition with Led Zeppelin.
As I think you can see. Tyler and Aerosmith have had a very colorful past (and present).
Though I have covered other Aerosmith songs, Giusy and I thought it would be fun to take on "Don't Want To Miss A Thing!"
We hope you like it as much as we enjoyed recording it.
Ken Tamplin Vocal Academy – Where The PROOF Is In The Singing!
---
Watch this 30 second before and after video of a student who took the course for only one year:
Want To Learn to Sing Better?
Well, you CAN! Get started today with our 'world famous for good reasons' How To Sing Better Than Anyone Else PRO BUNDLE vocal course and you will be well on your way to singing better than you ever thought possible!
---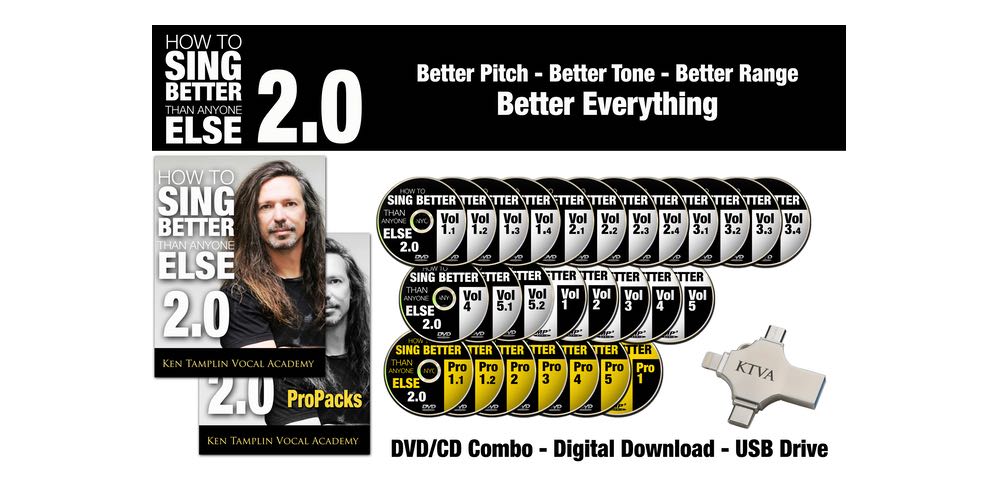 "FINALLY….! Finally someone explains the mechanics of singing in a productive way (rocket ship pillars etc.). I'm improving by lightyears compared to what my singing was before. You get this a lot (as you should) but the course you've put together…MIND-BLOWING! Purchasing Kens material was a turning point in my life and the best thing that i have ever spent my $$$ on." John Ash
---
Active KTVA Students in The KTVA Singers Forum:
---
""It's awesome.

The private sections of the forum are worth the price of admission alone.

I struggled with 2 different tertiary (university Level) level teachers (6 months each about 8 years ago) telling me my voice just wouldn't be able to do what i wanted to be able to do and even if it could, the material i wanted to be able to sing would be too 'Dangerous.' Absolute rubbish. If you do the work thats laid out in this course, you are golden, I started in March Last year struggling to hit the E4 note in 'Under the Bridge' chorus now I can sing this stuff:
Honestly man, you are not going to find a bad review here. The course and this forum completely demystifies every single aspect of great singing. Just be prepared to do the work."
Streeter – KTVA Singers Forum
---
Gary Schutt
Anthony Vincent
Tori Matthieu
Sara Loera
Gabriela Gunčíková
Xiomara Crystal
---