John grew up near a place called Strawberry Fields in Liverpool.
"Michelle" was inspired by Paul's favorite technique for picking up girls at parties.
Ringo's real name is Richard Starkey.
The first lyrics to "Yesterday" were "scrambled eggs."
The BBC banned "I Am the Walrus" for its lyrics "pornographic priestess" and "let your knickers down."
Lovely Rita was a real Meter Maid named Meta. Parking attendant Meta Davis had written a ticket for Paul 's car outside Abbey Road Studios in 1967.
Lucy In The Sky With Diamonds was not written about LSD. It was actually about a young girl named Lucy that Julian Lennon had taken a liking to in school at age 4. Julian often sent Lucy Vodden flowers right up until her passing. Lucy died from complications related to lupus in 2009.
Help! Was actually written for reasons just as it sounds. John stated he was really crying out for help. It was his "Fat Elvis period."
Ticket to Ride was the Beatles attempt to write a song like the Kinks' "You Really Got Me." Originally it was "Ticket to Ryde". Ryde was a town in the Isle of Wight, the town the lads were dreaming of in the Sgt. Pepper song, "When I'm 64."
Yesterday holds the record as the most covered song in history, according to the Guinness Book of Records.
I'm sure volumes could be written about all the crazy BeatleMania, KTVA vocalist Tori Matthieu and I thought it would be fun to "Come Together" and do a duet of the famed Beatles track.
We hope you enjoy it!
Tori and I came together on this one!
Ken Tamplin Vocal Academy – Where The PROOF Is In The Singing!
---
Watch this 30 second before and after video of a student who took the course for only one year:
Want To Learn to Sing Better?
Well, you CAN! Get started today with our 'world famous for good reasons' How To Sing Better Than Anyone Else PRO BUNDLE vocal course and you will be well on your way to singing better than you ever thought possible!
---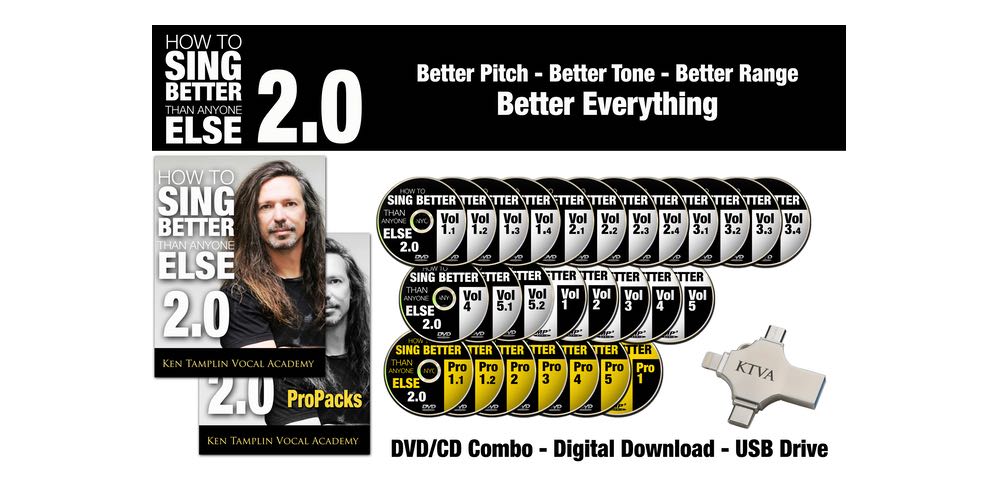 "FINALLY….! Finally someone explains the mechanics of singing in a productive way (rocket ship pillars etc.). I'm improving by lightyears compared to what my singing was before. You get this a lot (as you should) but the course you've put together…MIND-BLOWING! Purchasing Kens material was a turning point in my life and the best thing that i have ever spent my $$$ on." John Ash
---
Active KTVA Students in The KTVA Singers Forum:
---
""It's awesome.

The private sections of the forum are worth the price of admission alone.

I struggled with 2 different tertiary (university Level) level teachers (6 months each about 8 years ago) telling me my voice just wouldn't be able to do what i wanted to be able to do and even if it could, the material i wanted to be able to sing would be too 'Dangerous.' Absolute rubbish. If you do the work thats laid out in this course, you are golden, I started in March Last year struggling to hit the E4 note in 'Under the Bridge' chorus now I can sing this stuff:
Honestly man, you are not going to find a bad review here. The course and this forum completely demystifies every single aspect of great singing. Just be prepared to do the work."
Streeter – KTVA Singers Forum
---
Gary Schutt
Anthony Vincent
Tori Matthieu
Sara Loera
Gabriela Gunčíková
Xiomara Crystal
---